Image: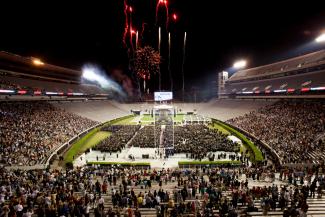 This year's graduation ceremony, like all graduation ceremonies, represents a closing chapter for many. All the same, it is also a time of rejoice, celebration, and reflection. Beginning with an introduction by department head Dr. Ed Panetta, the ceremony's tone was established as positive, uplifting, and hopeful. Students were then treated to a welcome speech by Dr. Kecia Thomas, Senior Associate Dean of Franklin College of Arts & Sciences, before hearing a poignant and at times quite humorous undergraduate address by Joycie Bernstein, member of Lambda Pi Eta Honor Society, recipient of the Presidential Leadership Scholarship, and Magna cum Laude graduate. Afterwards, alumni Lee Zell, Account Executive at Turner Sports, spoke on the significance of community, networking, and the role of face-to-face communication in an increasingly digital environment. Finally, Dr. Roger Stahl, Undergraduate Coordinator, presented Graduate Candidates and Undergraduate Certificates, before a few closing remarks of his own. 
Photos of the event can be found here.  
Without further ado, the Class of 2017!
Doctor of Philosophy:
Valerie B. Coles Cone (Advisor: Dr. Jennifer Samp)           
Ashley Gellert (Advisor: Dr. Thomas Lessl)
Jeremy Grossman (Advisor: Dr. Barbara Biesecker)               
Sally J. Spalding (Advisor: Dr. Celeste Condit)
Master of Arts:
Debra Gerrits (Advisor: Dr. Jennifer Samp)    
Anastacia Janovec (Advisor: Dr. Jennifer Samp)            
Anna Walling ((Advisor: Dr. Celeste Condit)
Bachelor of Arts:
Christopher Adams
Jamie Ascher (C)
Katherine Margaret Badcock
Caleb Barnes (C)
Joycie Bernstein (M)
Bevin Bryan
Lonnie Brooks Thomas Cato
Megan Charbeneau
Alex Corluyan (M)
Dallas Dante (C)
Kyndall Parker Davis
Caroline Day (C)
Tim del Risco (M)
Brittany Ellexson 
Hallie Estroff (M)
Emily Funk (M)
Lee-Andre' Garvin 
Cequoyah Gates (M)
Bilal Gilani
Kelsey Graham
Nia Hampton
Paige Catherine Healey 
Mary Hemingway 
Caroline Heys 
Mary-Margaret Joseph
Caroline Kellert (C)
Benjamin J. Kerr (C)
Benjie Klouda 
Lucas Krull 
Merrick Laughridge (C)
Austin Macdowell 
Ebonie S. Medious 
Jade Nielsen 
Aliya Nurani (C)
Ashley Owen 
Tanya Lizbeth Pacheco(M)
Tuyet-Nhi Pam 
Julie Catherine Rich (M)
Callie Rittweger
Christine Roberts (C)
Materason Roberts 
Jessica Sagastume (M)
Alexandra Sellers
Kari Sicard (C)
Hannah Slotin (S)
Tanner Smalling (M)
Amanda Stanley 
Ryan Joseph Steffes 
LaPorsche Thomas 
Kathryn Timoney (M)
Margot Warren 
Riley Weyher (C)
Claire Williams (M)
Carly Jade Williford 
Haley Danielle Wix (C)
Jenn Vigh 
Mun Yang (M)
(S) Summa cum Laude 3.9 – 3.99 GPA
(M) Magna cum Laude 3.7 – 3.89 GPA
(C) Cum Laude 3.5 – 3.69 GPA
The Department of Communication Studies wishes to thank the following individuals for helping make this event possible!
Our Volunteers:
Kristin Andersen – Graduate Student 
John Banister – Graduate Student
Hue Duong – Graduate Student 
Logan Gramzinski – Graduate Student
Elaine Hanby – Graduate Student
Andrew Hart – Graduate Student 
Jason Myres – Instructor 
Steven Murray – Graduate Student 
Nathan Rothenbaum – Graduate Student
Kevin Sheppard – Undergraduate Student
Jason Williamson – Graduate Student 
Our Staff:
Angie Świtoń – Undergraduate Academic Advisor 
Tara Funderburk - Administrative Associate 
Tikica Platt – Business Manager