Image: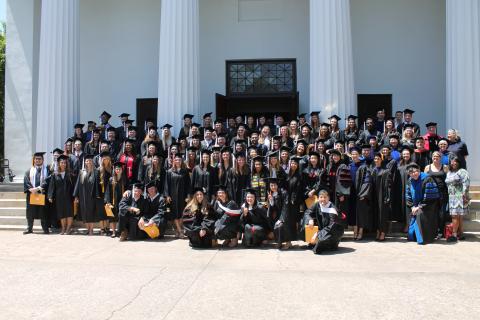 The Department of Communication Studies held its annual commencement exercises on Thursday, May 3, 2018 in the University of Georgia Chapel.
The event featured two addresses, one from graduating senior Jonas Taylor and a second from program alum Hannah Kay Herdlinger. A member of Lambda Pi Eta and a graduate of UGA's entrepreneurship program, Taylor encouraged his classmates to see their graduation day as a beginning to lives of service in the communities in which they will go on to live and work—lives, Taylor insisted, for which the class of 2018 had been prepared and, indeed, had already begun during their time at UGA. In her speech, Herdlinger, who worked under Cheryl Sandburg at Facebook before founding the non-profit Thread Talk, offered graduates practical advice for how to approach life after UGA. Among her pearls of wisdom: Be bold. Take risks. A simple gesture, like an old-fashioned letter written to someone you admire, can open doors you never imagined would be open to you.
The event culminated with the conferral of 70 degrees, including 62 Bachelor of Arts, 4 Master of Arts, and 4 Doctor of Philosophy degrees. Degree recipients are listed in alphabetical order below.
Click here to view and download commencement photos on/from the Communication Studies Flickr page.
UGA Communication Studies Class of 2018
Doctor of Philosophy
Kristin Andersen (Advisor: Dr. Analisa Arroyo)
Anna Dudney Deeb (Advisor: Dr. Belinda Stillion Southard)
Mengfei Guan (Advisor: Dr. Jiyeon So)
Logan Gramzinski (Advisor: Dr. Edward Panetta)
Master of Arts
​​​​​​​Nizia Alam (Advisor: Dr. Jiyeon So)
Sarah Caban (Advisor: Dr. Analisa Arroyo)
Elaine Hanby (Advisor: Dr. Jennifer Monahan
Nathan Rothenbaum (Advisor: Dr. Celeste Condit)
Bachelor of Arts
Madison Akins
Ashmal Ali
Shirley Moore Allen
Kaila Anderson
Caroline Barfield
Kati Baynes (C)
Kevin Blum
Ariel Bowen
Gabrya Brackins
Sarah Ann Bradford
Trevor Bramblett
Macy Cantrell
Taylor Carman (M)
Ashley Cavalcante
Caliope Clements(C)
Mary Grace Crawford 
Micayla Crenshaw
John Cropp
Carly Cullen
Andrew  Darrow
Antonio Del Sesto
Taylor Dowse
Desrea Elcock
Emma Faulk
Anna Furr
Lillian Huckabee
Abigail Irwin (M)
Carley Kleban (C)
Gracyn Lastinger
Justin Lee (C)
Grace Main
Katharine Manroe (M)
Graham Mayne (C)
Carolyn McBride
Gina McLoughlin
Marlee Middlebrooks (M)
Garrett Mixon 
Andrew Moody
Sarah Mount (C) 
Hannah Norton
Anthony Olivieri
Alexis Osborne (M)
Anna Pitts (M)
Brandi Ja'lise Raines
Natalie Ray
Rebecca Rasmussen
Megan Reeves (C)
Sarah Rovi
Kevin Sheppard (C)
Claire Shirey 
Nicholas Shumate
Payten Slaughter
Andare' Chase Smith
Breanna Smith
Hannah Leigh Smith (C)
Lauren Smith
Karin Sowieja (C)
Robyn Spreen
Emma Strong
Blanca Tavera (M)
Jonas Taylor
Taylor Todriff (C)
Carson Travers (C)
Grant Tucker
Shakela Uddin
Caroline Watkins
Abby Williford
Sawyer Wilson
Mason Wittner
Marlin Wright
Landon Yarborough (C)
*(S) Summa cum Laude 3.9 – 3.99 GPA
*(M) Magna cum Laude 3.7 – 3.89 GPA
*(C) Cum Laude 3.5 – 3.69 GPA
The department wishes to thank the numerous people who assisted with commencement and helped make it a success. Congratulations to all graduates!