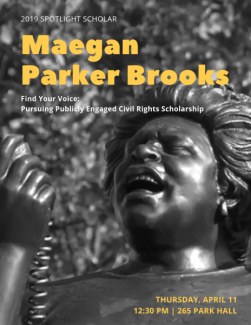 Speaker Name:
Maegan Parker Brooks
University or Organization:
Willamette University
265 Park Hall
Faculty visits
Guest speaker
Maegan Parker Brooks has spent the last fifteen years studying the rhetoric of the Black Freedom Movement. This research led her to the Mississippi Delta, where she began collecting oral history interviews and ended up involved in a wide range of community projects. From designing a monument to developing a K-12 Civil Rights Curriculum, Brooks' publicly engaged and public facing civil rights scholarship takes myriad forms. During her presentation, she will share two short documentary films she helped create and preview the forthcoming Find Your Voice website project she is directing. Moreover, Brooks will discuss what compels her to pursue public facing humanities scholarship, acknowledging both the challenges and possibilities that accompany this mode of research.