Image: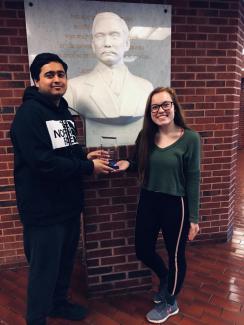 By: Alan Flurry
The Georgia Debate Union began the second half of its season with strong showings at the Georgetown College Debate Tournament held over the first weekend of 2020 in Washington, DC.  
The JV team of Lauren Debranski (senior, Woodstock) and Eshaan Kalra (sophomore, Johns Creek) finished prelims as the only undefeated team with a 6-0 record. They finished the tournament in 3rd place. Their road to 3rd place included wins against George Mason University, Indiana University, and the University of Rochester.  
Mr. Kalra was recognized as the top overall JV speaker at the tournament, while Ms. Debranski was recognized as the 2nd overall JV speaker.
Additionally, the varsity team of Zach Adam (freshman, Johns Creek) and Josh Weintraub (junior, Johns Creek) finished with a 4-4 record, with wins over Harvard University, the UC Berkeley, New York University and George Mason University.  
We would also like to take this opportunity to welcome Shunta Jordan, the new debate coach in the department of communication studies.
A native Atlantan and Double Dawg (B.S., Family and Consumer Sciences; MEd, Adult Education), Jordan was recognized as a "40 under 40" rising star alumna by UGA just a few years ago. A graduate of Therrell High School, Jordan was a successful member of the Georgia Debate Union and the first African-American in the GDU's history to qualify for the National Debate Tournament (and one of the first African-American women to qualify for the NDT from a Southern public university). She coached debate at the high school level for 20+ years prior to the transition back to UGA.
Jordan says of her philosophy: "I believe that everyone can be great with equal access, opportunity and support!"
Well said and welcome back to UGA!